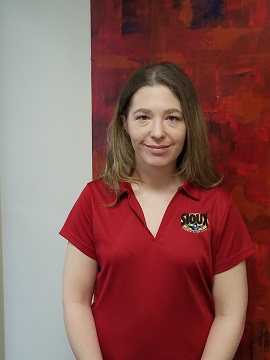 If you call Sioux Rubber & Urethane on any given day, the cheerful voice that picks up the line is likely Kelli Midland, the office administrator.
Kelli has been at the 2620 Hawkeye Dr. location for over a year now, but she's no stranger to the Sioux Rubber family. She previously worked at sister company, Big Sioux Warehouse, when the call went out for help at Sioux Rubber.
"I was working at Big Sioux Warehouse as a customer service representative," she explained. "Sioux Rubber needed someone to fill-in for office administrator while they hired someone new. I transferred over to help and ended up really liking it, so I stayed."
As office administrator, Kelli manages all of the accounts receiving and payable. She processes timecards, sales order entries and invoices: basically, anything that deals with "paper." In fact, all of the office's paperwork was moved to a digital program, one of the big projects Kelli helped implement.
"During my time here, we've gone from work orders on paper, to everything being in a workflow program," she said. "All of the guys in the shop have tablets to keep track of their work and order processing. It's a really cool program and makes things easier on me."
The time tracker program allows Kelli to go back and look at different stages of the order. She can also use analytics to track data, like how much time was spent in each stage.
Kelli wants customers to know that Sioux Rubber & Urethane is a great place to work. Her 9-year-old son agrees.
"He's toured the building many times and just thinks Sioux Rubber is the coolest place in the world," she laughed.
Kelli is a livelong Siouxland resident. She hails from just north of Sioux City. She grew up, and currently lives in, Le Mars, Iowa. She doesn't mind making the 20-minute trek south every day to work at Sioux Rubber. In fact, she says it is more than worth it.
"Everyone is pretty casual and laid back here, but they all know what they're doing and how to get it done. It's impressive to see what they can do."