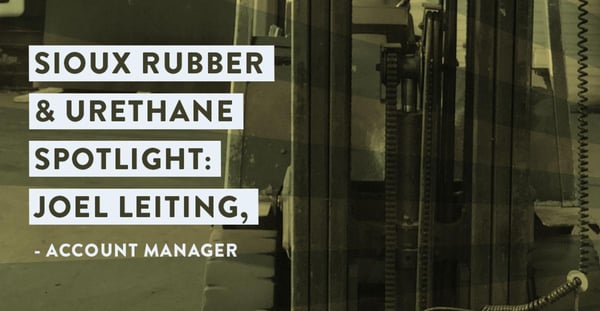 Creating solutions for their customers is the number one priority for the folks at Sioux Rubber & Urethane. Our team is always on the lookout to see how rubber and urethane can solve our clients' issues from the obvious (die cutting boards) to the unique (custom abrasion solutions). Sales Manager Joel Leiting is the newest member of that team.
Joel has been helping customers solve their abrasion, impact and corrosion issues with Sioux Rubber & Urethane since June 2018. With a background in field sales, Joel spent years as an account manager in industrial distribution. "I would visit plants and help them with issues and sell them parts," he explains. Now he's using his skills and experience for Sioux Rubber & Urethane.
A Day in the Life of Joel
A typical day for Joel includes providing quotes for customers, placing orders and generally helping clients solve their impact, abrasion and corrosion issues. "Half the time, I'm in the office and the other half, I'm on the road visiting clients and helping them with their needs." Every sales call is different, and that's what Joel likes about his job. "It's constantly moving and changing. My day is never the same."
Joel starts each day by crossing off the items on his list he didn't get done the day before, then it's first-come, first-serve.
Joel's Favorite Products
He loves to tell customers how great Abrasiplate and Tuff Tube are, and how recovering clamp pads instead of replacing them just makes financial sense for their businesses. "These Sioux Rubber products are my favorite because they solve issues and save clients equipment and money," he says. "That equals a happy client and they order more."
As a sales manager, it's Joel's job to visit clients and their facilities to determine how these products, and other rubber or urethane solutions, can help them. "I like meeting different people and knowing I helped them solve their issue. I'm developing relationships for years to come."
Outside of Work
When he's not working for his customers, Joel loves to play golf, fish and watch football, both college and NFL, and hanging out with his daughters. "Go Huskers! And, of course, I'm a Raider Nation fan for life!" he says. "I love hanging out with my two girls and doing fun stuff with them, like taking them golfing, taking them tubing to Cone Park and camping."
Ready to let Joel find some abrasion, corrosion and impact solutions for your company? Contact him today at 866-603-8661 or email him at Joel@siouxrubber.com.