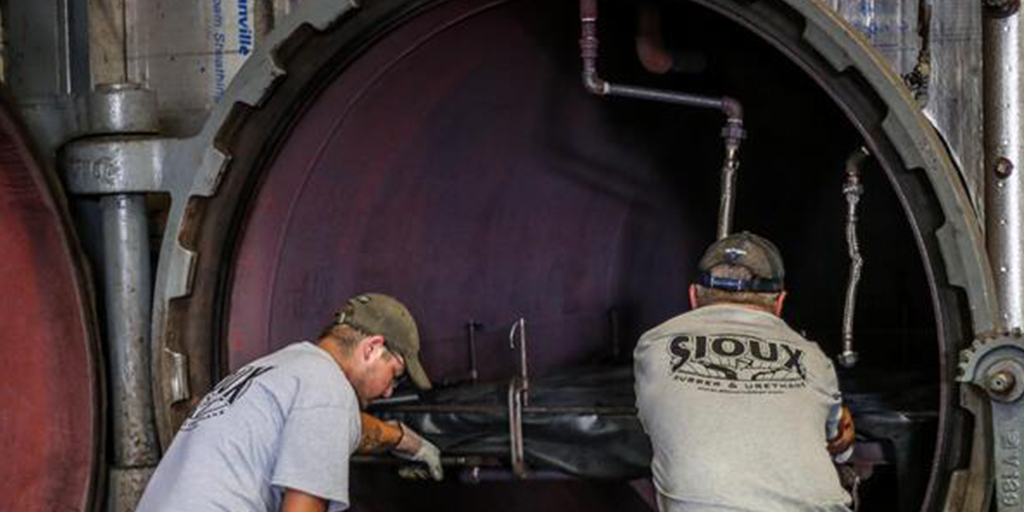 Anyone that works with forklifts knows that clamps withstand a lot of wear and tear. Whether you're handling rolls, barrels, or flat boxes, it's not a matter of if your clamps start to fail, but a matter of when. Unfortunately, fully replacing parts on your machinery is expensive and reduces productivity. Here's the good news: Sioux Rubber & Urethane has the solution, and we've been doing it for over 30 years! Our Endurawear clamp pads and covers provide a safe, strong, easy, budget-friendly, and fast way to keep your clamps in business.
1. Safe
Clamp pads grip and secure product while it is being transported. Without pads, or as pads begin to wear out, there is an increased risk that inventory becomes scratched, damaged, or even dropped. Robust, ribbed clamp pads will make for a safer environment for your products and your people.
2. Strong
Recovering your existing clamp pads with our patented Endurawear is not a shortcut. In fact, Endurawear is guaranteed not to delaminate. We've recovered over 5000 sq ft of clamp pads in the past two years, all with zero defects or delaminations. Feel free to drag it behind your car or stomp on it -- this stuff is not coming loose.

3. Easy
Recovering your existing parts will make for less of a hassle than ordering replacements. We can work with any substrate and shape, be it steel or aluminum, flat or curved. We can accommodate any mounting hole pattern and any cutbacks or wear-plate areas. After 30 years of recovering clamp pads, we've seen it all. Our process is streamlined and simple to make things as easy for you as we possibly can.
4. Budget-Friendly
We understand the material handling industry has tight margins and demanding customers. The last thing you need is costly downtime and frequent equipment replacements. When we recover your clamp pads, you're spending 50-75% less than you would to completely replace the clamps.
5. Fast
We promise quick turnaround times, because we know how important it is for you to get back to work. Typically, our lead time is 7-10 days. So, in just about one week, you can be up and running again with fully functional clamp pads!
Because of these 5 reasons, it's easy to see that our clamp pads are an effective solution and money-saving strategy for your forklift operation. Request a sample today, and see for yourself!