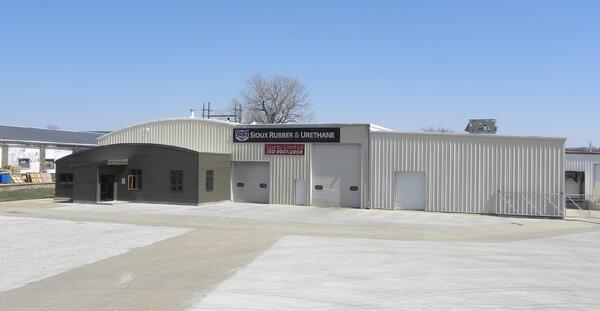 Here at Sioux Rubber & Urethane, we live and breathe abrasion, impact, and corrosion resistance. We've created numerous products and solutions designed to serve the agricultural, mining, aggregate, chemical, and manufacturing industries. Rubber and Urethane is all we do - and we're incredibly good at it. We have rounded up a few of our most frequently asked questions and answers, in case you've wondered what it is like to work with Sioux Rubber & Urethane to solve your abrasion, corrosion, and impact issues.
Q: What is your turnaround time to complete a covering project?


A: This depends on the number of pieces you need covered, the size/shape of each piece, and whether or not you need us to remove an existing covering or coating. Fortunately, we can take a look at your specific project and get you a detailed quote within 48 hours of your request. Learn more: https://siouxrubber.com/contact/get-a-quote/


Q: How thick of a rubber coating can you apply to a roller? How thick can you spray urethane?
A: There is no limit to the amount of rubber that we can apply to a roller, however, there does come a point when the amount of rubber can harm the performance of the roller. For most rollers, 180-200 mils (0.180" - 0.200") of coverage will suffice. For some applications, we have sprayed a thickness of 0.375".


Q: Do you do on-site application of your product?
A: No, all of our coverings are applied at our facility in Sioux City, Iowa. Certain products, like the TuffTube spout lining system, are easy to ship and install on-site. For most spray urethane and covering products, the work happens here.


Q: Is there a minimum order requirement?
A: No. We pride ourselves in being a small-but-mighty business, and we'd never turn away an opportunity to help a customer. We can do both single-part custom orders for standalone equipment/facilities and large quantity orders for OEMs.


Q: What information is required to get a quote?
A: The more information you are able to provide, the more detailed a quote we can produce. We need product dimensions, the type of rubber/urethane required, and a detailed description of the environment the product is used in. When in doubt, share the details!
Here at Sioux Rubber & Urethane, we take a great deal of pride in our quality products and top-notch customer service. We are happy to discuss any of your questions. Get started on a quote request today: https://siouxrubber.com/contact/get-a-quote/