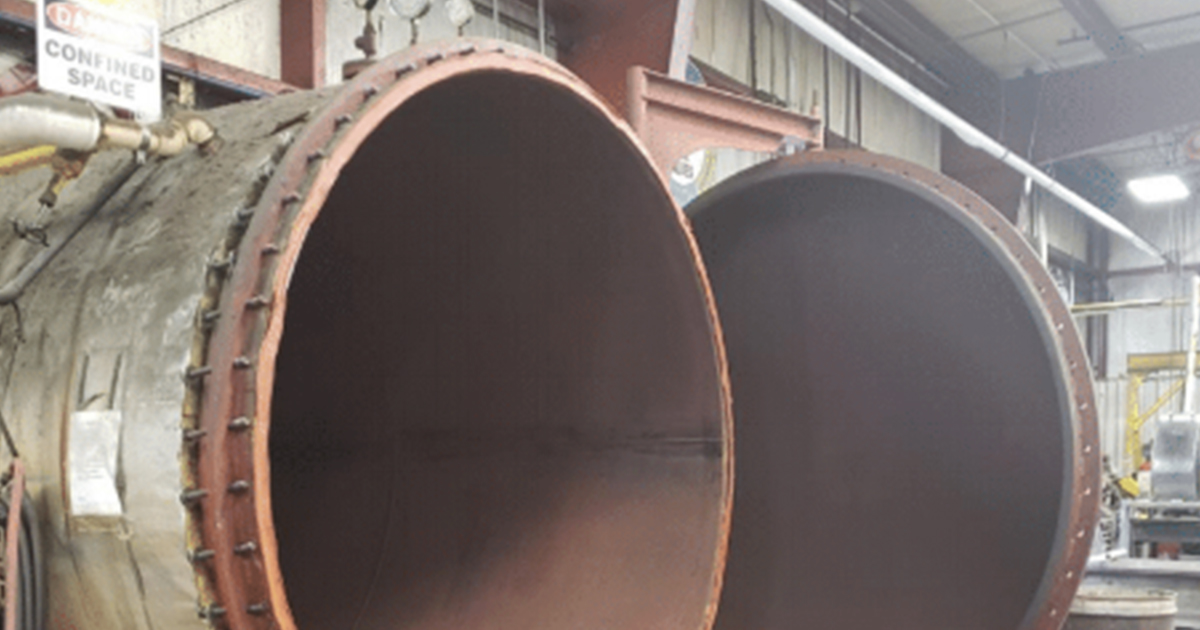 What sets Sioux Rubber & Urethane apart? Quite simply, it's our processes that help us to stand out when compared to companies that offer similar services. It is common in our industry to use UV Curing, or cold-bonding to adhere rubber to a substrate. This process does work, but you get what you pay for. Cold bonds are only as strong as the glue that is used. This is why, from day one, we've been committed to the process of vulcanization.
What is Vulcanization?
The vulcanization process is complex and requires a great amount of skill. It begins with the application of bonding primers on the substrate after it is fully prepared, often in 2 or more layers. Then, a tack cement is applied to adhere the raw rubber to the substrate during the process. Using steam pressure and heat, we cure the rubber to create the bond between the material and substrate. This superior bond is virtually unbreakable and can withstand heat up to 800 degrees. We have seven different vulcanizer machines in our shop. We can vulcanize something that is up to 90 inches wide and 20 feet long, so there is very little that we are unable to fit.
The Sioux Rubber Advantage
There is a reason we are the only ones in the business that choose the vulcanization process over the cheaper and easier cold-bonded option. Vulcanization is labor-intensive and requires experience. Fortunately, our average employee tenure is 12+ years, so we've been doing this a long time. We believe in the human touch. Every project is done by hand, meaning that your equipment will have expert eyes and hands on it from start to finish. We will notice every air bubble or flaw where the seams meet. Seeing every inch helps us to catch the problem BEFORE it happens. This hands-on approach is incredibly unique, as many competitors are automating more and more of their processes. When you hire us for a vulcanization process, you are paying for human eyes, human hands, human expertise, and peace of mind.
We can strip and replace paint and rubber that is cold-bonded to existing equipment. Sometimes, it's in such bad shape that we can peel it off with our hands. If you're wanting a vulcanized lining that will withstand serious abrasion, corrosion, and impact - vulcanization is for you.