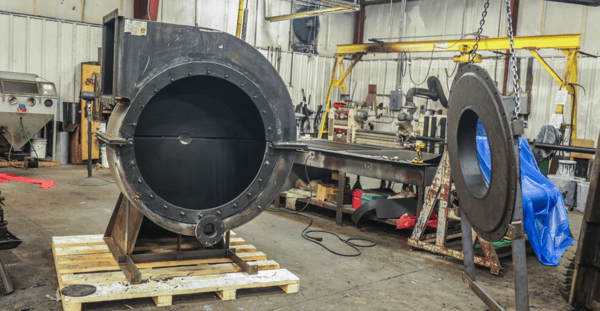 Need to solve an impact, abrasion or corrosion problem on a unique piece of machinery? No problem. Sioux Rubber & Urethane has you covered, literally, with our proprietary Endurawear rubber. We specialize in customer rubber projects from recovering an existing part, covering something new in rubber and even creating an entirely new piece from scratch.
Covering your machinery with rubber not only protects the machine, but can help control noise, improve gripping friction and control vibration.
Here's a list of just some of our custom rubber products.
Custom Clamp Pads. We can cover curved clamp pads with ribbed SBR for increased gripping when used with forklifts. Boxes and paper roll carriers are grabbed with ease.
Forklift Forks. Coat the forks of your forklift to protect any product that needs to be moved, like coated pipes, boats and painted products.
Polishing Disks. Rubber can be applied to disks, up to 48-inches in diameter, used for glass polishing.
Gaskets used in special machinery can be covered. The largest we've ever done is 8-feet wide by 20-feet long.
Pump Housings. Rubber can be applied to the internal linings of pump housings used for slurry or dredge pumps.
Rubber can be applied to the entire impeller, blades and all, for use in slurry or dredge-type pumps.
Fan Housings. Fan housings used in chemical plants to move air in corrosive atmospheres can be protected with rubber.
Rubber can reduce abrasion in sand chutes, grain spouts and transitions.
Rubber can not only reduce wear but control noise in sand, gravel, concrete and even hard candy hoppers.
Impact Pads. Impact pads of various sizes, shapes and thickness can easily be covered in rubber. Covering these in rubber helps to reduce noise and extend the life of impact bars.
Scraper Blades. The blades of snow plows, squeegees and street sweeps can all be covered in rubber, extending the life of the blade and reducing abrasion.
Discharge Chutes. These chutes, used for unloading or loading grain, feed, fertilizer or any dust, can be covered in rubber to help reduce abrasion when loading in or out of storage bins, rail cars or trucks.
Gypsum Mixer Boots. These boots can be covered entirely in rubber, like red natural rubber. We have standard size molds in stock but custom designs are available.
Mixer Paddles. Paddles and mixers can be covered in all types of rubber, including food-grade white neoprene.
Conveyor Cradle Impact Bars. Coating these impact bars in rubber allows them to better absorb impact and reduces noise. We have standard sizes in stock and custom designs are available.
This list is just the tip of the iceberg of what Sioux Rubber & Urethane can cover, including custom urethane products. Some of our best ideas come from our customers. Have something that can benefit from a rubber covering? Let us know!