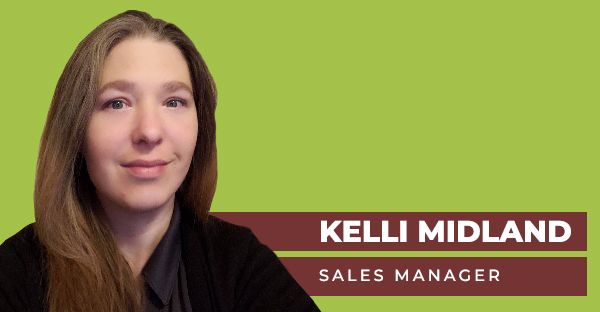 If you reach out to us for a quote or information on our products, chances are you'll be talking with Kelli Midland, our new Sales Manager! Kelli may be in a new role, but she's not new to Sioux Rubber & Urethane. After starting with the company as an office administrator, she served as Independent Sales Rep Coordinator for several years. Today, as Sales Manager, Kelli is in control of the overall sales process and serves as the face and voice of Sioux Rubber & Urethane for all current and potential customers. Kelli says, "This role is a natural progression. As I've moved into different positions within the company, I've been able to bring everything I learned and apply it to the new role."
A day in the life of the Sales Manager is never boring, and Kelli likes it that way! Most days start with catching up on emails over coffee, sending out quotes, and responding to inquiries. Then, she's off to check on projects that are underway and to streamline communication with the production team. Kelli tries to walk the production floor daily and is always eager to learn more about the processes and techniques that set Sioux Rubber & Urethane apart from the competition.
"I love to learn, and I like to see firsthand how our products are made - it makes it easier for me to do what I do. Because I've actually seen how it works, it is easier for me to understand why our vulcanization process is better than traditional cold-bonding, for example. I can explain it in a way that makes sense," Kelli says.
Kelli's favorite part of her job is helping customers find solutions to their problems. Recently, someone called in a panic, looking for scrap rubber to help hold him over while he was saving up to purchase new clamp pads.
"When I explained that we could reline his existing clamp pads with a five-day turnaround at a fraction of the cost of buying new ones, I really think it blew his mind. I was happy to give him the best possible news that day!" Kelli says, "It is so cool when someone approaches us with a problem, and I'm able to say, 'We have a solution for you!'"
Along with everyone at Sioux Rubber & Urethane, Kelli is committed to helping our customers solve problems. "We don't sell products - we create solutions. That's really what I'm passionate about in this role. I want to save people time and money," Kelli says.