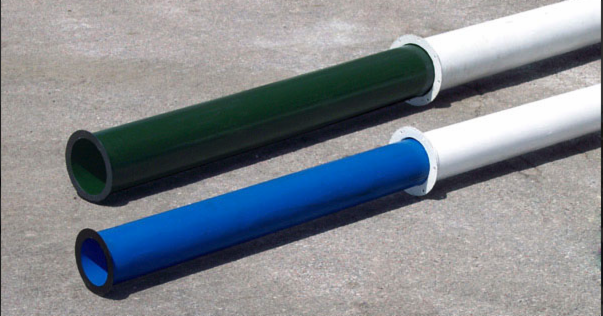 Harvest season is right around the corner. Is your equipment ready? Perhaps you've considered replacing expensive machinery, or purchasing new spouts in preparation for a busy harvest. Fortunately, you may not have to! With Sioux Rubber & Urethane products, you can save the expense of costly repairs and extend the life of your existing equipment for many seasons to come. Save yourself time and money with these innovative solutions, designed with the agriculture industry in mind:
Tuff-Tube Spout Liners
In one season or less, grain, seed and fertilizer handling can destroy an unprotected steel spout. Say goodbye to replacing your spouts every year and protect them with our patented Tuff-Tube Spout Liner. The Tuff-Tube liner slides easily into an existing steel spout, and can be rotated 120-180 degrees throughout the season for additional abrasion resistance. It can be molded into any standard diameter, and is available in lengths up to 20' for new or existing spouts. Seamless application prevents particles from getting between the spout and the liner, and our spout elbows have a permanently bonded liner that perfectly fits the Tuff-Tube for total spout protection.
Spray-on Urethane
How can you protect against friction, chemical attack, and weather-wear on the equipment that gets heavy use during harvest season? Spray-on urethane will bond to your equipment in a uniquely flexible way, allowing for it to shrink or expand with the elements. Paint, on the other hand, is inflexible and will break it's bond with the slightest fluctuation. We can spray urethane onto almost any material; steel, aluminum, stainless steel, concrete, wood, and fiberglass. Common agriculture applications are hoppers, soybean dryers, and frame rails for grain sorters.
Rubber Sheets
Save your equipment from damages caused by steel-on-steel contact, friction, abrasion, and corrosion. Do you have exposed metal in your grain-handling hoppers or spouts? An Abrasiplate rubber sheet can extend the life of any surface up to 10x longer than it would last unprotected. Abrasiplate is created with our proprietary Endurawear rubber. We vulcanize the rubber to the metal for a bond that is smooth, blister-free, and virtually unbreakable. Extend the life of your metal surfaces this harvest season!
If your unique agriculture abrasion issue isn't mentioned above, please reach out to us. We can analyze your production process and present customized solutions that will extend the life of your harvest equipment in new and cost-effective ways!