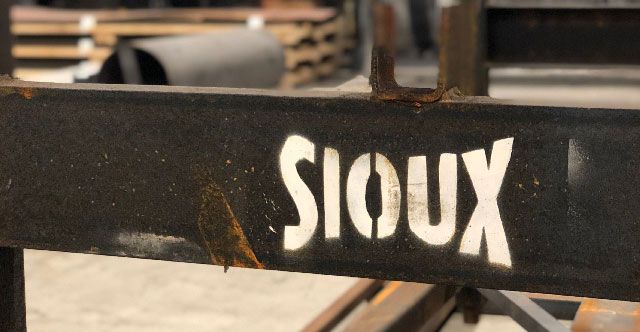 When manufacturing machines break down, they don't produce products on-time which can negatively impact your bottom line. One of the main reasons for a machine to break down is wear-and-tear due to abrasion, friction and impact. Applying rubber or urethane to your machines and its parts helps them last longer, reducing downtime and saving you money.
When your rollers and pulleys need to run smoothly, they need to be covered in Endurawear Rubber or Endurawear Urethane. Sioux Rubber & Urethane can apply a variety of types and durometers of urethane or rubber to rollers and pulleys. We can either cast or spray a urethane covering or apply a rubber coating to fit most any application. We can also strip off the existing worn covering and apply a new rubber or urethane covering to an existing core.
Clamp pads that can't grip and grab aren't doing their job. We can recover your existing clamp pads with Endurawear Rubber at a fraction of the cost of buying a completely new pair. Our experienced crew can remove the old worn rubber covering from the existing metal surface and vulcanize on a new rubber covering. This way you know that the bolt holes in the clamp pads will realign perfectly with your machine because it came off that machine. Surface textures available include ribbed, diamond design, and cross hatching to meet all your clamping needs. We can recover all types of clamp pads: flat, curved, and custom pads in all sizes large and small with rubber thickness at 1/8" and up.
Prevent damage to your conveyor belt and keep your product where it should be - on the belt. Our impact bars are made of premium impact resistant Endurawear Rubber, a 3/8" UHMW top and metal insert all permanently bonded through our special molding and vulcanization process. Endurawear Rubber provides excellent cushioning and impact absorption. Easily installed, impact bars are a cost-effective method for conveyor supports, impact beds and feed chute collectors.
Some abrasion and impact problems require a custom solution. We have 40 plus years of experience in the industry and know how to solve any problem. Whether you need your existing parts coated, re-coated, new parts manufactured or you just have a head-scratching wear issue you can't get figured out, chances are we have already seen it and solved it. With our in-house fabrication department to keep your mold cost to a minimum, our custom urethane solutions give us the ability to offer a much more cost-effective solution. We have a full line of castable and sprayable urethanes to get the physical properties you need for your parts. Our urethanes varying in hardness, rigidity and temperature range and can be bonded directly to most any metal, concrete or wood surface.
Contact our experienced staff to discuss any of these solutions or send us a drawing and we will build the solution you have designed.