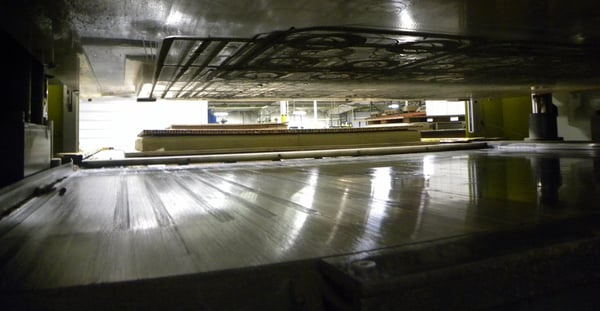 The HawkPad, by Sioux Rubber & Urethane, is saving manufacturers thousands of dollars in press pad replacements. That's because the HawkPad has been shown to last two- to four times longer than traditional press pads. This durability adds up to big savings – thousands of dollars per year, per machine, in material costs alone.
Sioux Rubber & Urethane's HawkPad is made by bonding multi-layered hardwood to a custom-blended urethane. This special urethane barrier is made from our proprietary EnduraWear™ which allows for deep, clean cuts through multiple materials, in multiple patterns, multiple times. It resists warping, dimpling and shredding, even after a half million cuts. It saved one manufacturer more than $6,000 per year for each machine that used the HawkPad.
Save on Supply Costs
The HawkPad lasts far longer than a traditional gum rubber pad. One manufacturer found our HawkPads lasted more than four months compared to just a month-and-a-half of wear it used to get from a traditional press pad. The HawkPad saved this manufacturer $3,900 a year, per machine, in supply costs alone.
Save on Labor Costs
The HawkPad not is not only cheaper, but it can cut labor costs, saving production time. HawkPads are easier and faster to install than gum rubber pads; that means your machine is back to work, faster. For this same manufacturer, our HawkPad was installed in just 30 minutes, compared to three hours. Since each machine only needed three pads a year, installation for 1.5 hours only cost $150. Compare that to the gum rubber pad - where each machine used eight pads per year, multiplied by three hours of installation per pad - and 24 hours of installation cost the company $2,400. That's a savings of $2,250 – per machine!
Add the two together and this manufacturer saved $6,150 a year, per machine, just by switching to the HawkPad.
Cut Anything
The best part is the HawkPad is a far superior product! It allows for deeper, cleaner cuts all the way through the material, eliminating the need for labor-intensive hand-punching and trimming. It can also cut anything. The HawkPad is specifically designed so customers can cut any shape – circles, squares, triangles, whatever. The HawkPad can either be laid flat on the base of the press or suspended from the top. Either option is possible with the HawkPad.
What are you waiting for? If you're ready to save money and time, contact us to see how the HawkPad can improve your die cutting processes and save you thousands of dollars!