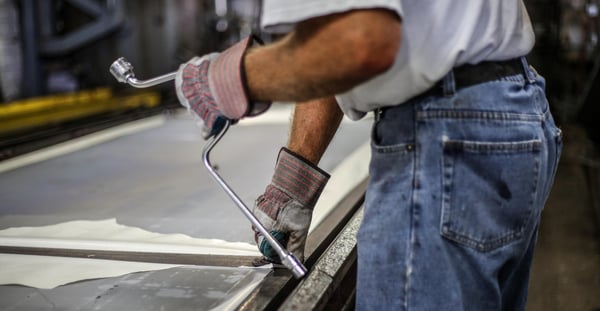 Clamp pads and forklift fork covers are the absolute best tool for tough applications. These pads provide the extra grip and decrease damage when moving material. If you use them in your warehouse, you won't move anything without them. But when these pads get worn out, caring for them can be a headache. First, they're expensive to replace and your forklift is left sitting while the part ships. Worse-case scenario is when the new pads don't fit and you have to send them back and start the process all over again. That's lost productivity, in time and money, you can't get back.
Here's a better solution: let Sioux Rubber & Urethane recover your existing clamp pads.
Why is recovery a better solution?
There are many reasons why recovering your existing clamp pads is a better option over replacing your worn clamp pads with a new pair. Here are just a few:
Sioux Rubber & Urethane are experts at it. We've been doing it for more than 30 years.
We use our proprietary Endurawear™ rubber that provides exceptional protection and longevity. This means you'll get lots of work done before they wear out.
The recovered surface isn't going to peel or chip off. We vulcanize new rubber onto your existing clamp pads, creating an unbreakable bond. This bond can only be broken under extreme heat or by hand-chiseling it off.
It's faster to have clamp pads recovered compared to ordering a new set. Our turnaround time is quick. It only takes a couple days, not weeks, for us to get started on your order. We'll get you back to work fast.
There's no guess work if the recovered pads will fit or not that's because they're the same ones that came off your machine. The original mounting holes are also used, making pre-drilling unnecessary.
Recovered clamp pads are available in a variety of surface textures including ribbed, diamond design and cross hatching.
We can recover all types: flat, curved and custom sizes, all done in a rubber thickness of 1/8-inch and up.
Recovered clamp pads are cheaper than new pads!
Call our experienced staff at 800-443-9469 for a price quote and get your performance like new again.