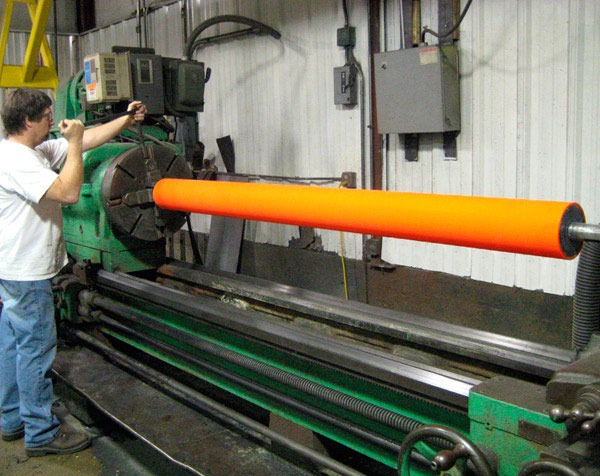 Over the past 40 years, we have earned a reputation as an on-time supplier of high-quality rubber and urethane products. Designed to solve the abrasion, corrosion, and impact issues that face a variety of industries and built to extend the life of equipment, our products provide the answer to many head-scratching issues. Have you noticed that your rollers and pulleys are suffering due to wear, tear, and gouges? You may think that your options are either to live with it or fully replace your expensive equipment. Instead, consider recovering your roller or pulleys with a coating of urethane.
Range of Characteristics
Every customer has a unique need for their rubber and urethane products. As experts with this material, we will listen to your needs and make a custom recommendation for a urethane blend or coating that is ideal for your application. We apply a variety of types and durometers (hardness) of Endurawear Urethane to meet any need. Coatings can be formulated to perform in unique environments, such as high temperatures, extreme vibration, and food grade.
Endless Options
We have the capability to cover rollers and pulleys of all shapes, sizes, and functions. Worried we won't have the specs you need? Our team is here to set you at ease. We can cover rollers up to 60" in diameter and up to 20' in length, with a range of durometers from 60 Shore A to 65 Shore D. When it comes to finishes, we offer a whole buffet of options; grooved, smooth, diamond, herringbone, crowned, step-crowned, or spiral. Not sure we have the options you would like? Give us a call, and we can determine the perfect features for your rollers and pulleys!
Get Rolling Faster
As a small mid-western company, we pride ourselves in completing high-quality work with turnaround times that serve our customers well. We know that a halt or delay in production is costly to you, and we pride ourselves in getting our customers up and running (or in this case, rolling) quickly and efficiently. We know we've done our job when your rollers and pulleys are working at peak performance; better than you could have hoped, at a price and timeline that blows you away!
The Sioux Rubber & Urethane Difference
We know rubber and urethane, so you can trust us to recommend a blend and application that will drastically improve the functionality of your rollers and pulleys. Whether you need one or one hundred, Sioux Rubber & Urethane treats each order with respect and time-sensitive service. Curious about working with us to recover your rollers and pulleys? Reach out today for a detailed quote and discover the difference.