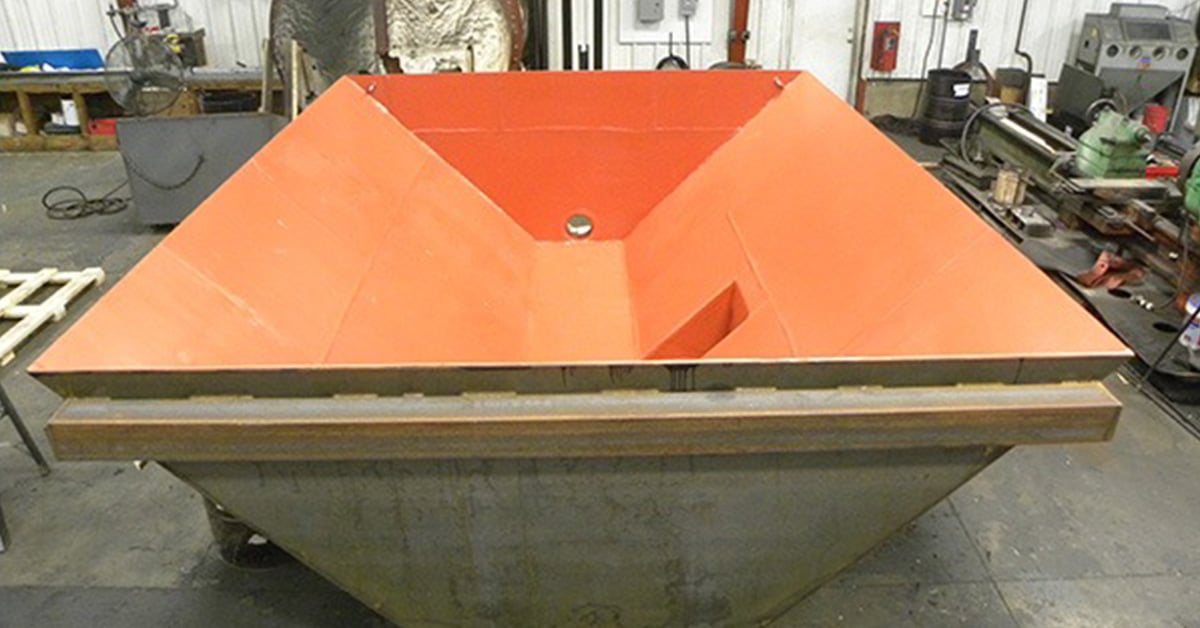 At Sioux Rubber & Urethane, we create solutions that increase the longevity, accuracy and output of your equipment. Endurawear, our unique Urethane blend, is formulated with the combined properties of rubber and plastic to provide the ultimate protection wherever you need it. Urethane can be sprayed, poured, or brushed on almost any surface to increase impact resistance and abrasion control.
We offer both sprayable and bolt-in urethane linings that can be customized to suit a wide variety of sizes, temperature thresholds, and rigidity requirements. Let's discuss both lining options, to help you get an idea of what is best for your project.
Sprayable Urethane Lining
With sprayable urethane, the options are endless. Frequent uses include pumps, chutes, hoppers, dump truck beds, rail cars, storage tanks, and snow plows. Because of the unique properties of Endurawear, it permanently bonds to nearly any surface and outlasts extreme temperatures. Products can also be cast or molded in urethane, including our sheets, tubes, rods, bars, and capping rings. Urethane liners:
Are available in thickness of .040" - .375"

Apply seamlessly for maximum cleanliness and leak resistance

Can be built to withstand a wide range of temperature thresholds

Bond to almost any surface, including steel, aluminum, wood, fiberglass, and concrete.
Bolt-on Lining
Generally, bolt-on liners are utilized for large industrial applications, such as mining equipment or equipment manufacturers. We design and custom fit each bolt-on lining application for maximum abrasion control and impact resistance. Bolt-in liners have specific counterbored holes in the rubber and steel so they can be mounted securely in strategically selected locations, creating maximum protection for your equipment in the places where you need it most. Bolt-on liners:
Are available with a steel backing

Are available in hardness from 60 Shore A to 65 Shore D

Can be customized in size and shape to fit most applications

Feature a variety of fastening options; bolts, rivets, screws, or tack-weld
Urethane lining is versatile, durable, and designed with the longevity of your operation in mind. In addition to the abrasion control and impact resistance, urethane linings also serve to muffle sounds, resist sticky build-up or residue in your machinery, and reduce down-time for repairs or cleaning. We are here to help you select the urethane lining that suits your project the best!