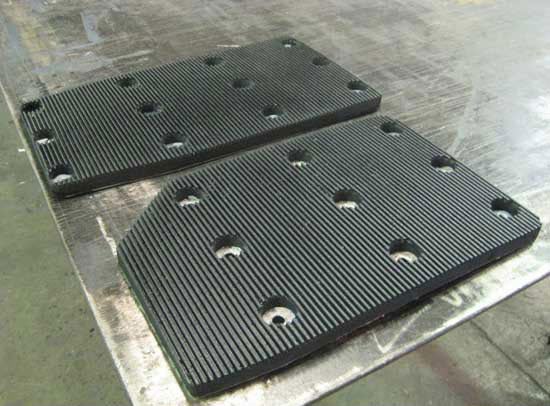 Sioux Rubber & Urethane is a leading rubber clamp pad manufacturer and custom polyurethane molding company. What are your goals for 2023? Perhaps you're eager to increase productivity and profit. Here at Sioux Rubber & Urethane, we understand the tight margins that you face in the materials handling industry. Every forklift, every load, and every minute of the day matters a great deal toward meeting your goals and satisfying your customer. This year, set your mind at ease with a simple, cost-effective solution for keeping your forklifts in top working order: clamp pads from Sioux Rubber & Urethane!
The Importance Of Clamp Pads
Whether you're handling rolls, crates, or pallets, one thing is for sure: you don't have time to deal with damaged or dropped goods. Clamp pads are bound to wear with time, and the last thing you want is for your grip to be so worn down that your clamps can no longer safely handle the goods you are responsible for moving safely.
Our clamp pads are made with our patented Endurawear rubber and ribbed for maximum grip. Feel free to stomp on it, drag it behind your car, and try your best to peel the rubber from the substrate – it won't budge. Our clamp pads are formulated to stand up to the demands of a forklift operator, day after day.
Why Re-Cover Instead of Re-Purchase?
Have you been purchasing new clamp pads? Luckily, there's a better way! When you let us re-cover your existing clamp pads, you're saving time and money while receiving a forklift clamp that is as good as (if not better than) new. Trust us when we say, there is no size or shape of clamp pad that we cannot work with. Curved, flat, steel, aluminum…we can handle it all! We can accommodate any mounting hole pattern and any cutback or wear-plate areas.
The best part: re-covering existing clamp pads is 50-75% less expensive than replacing the entire pad! Our midwestern values and work ethic contribute to our fast turnaround times, so you're back in business faster than you would be if you had to sit around waiting for new parts from your OEM.
Start the Year Right
Clamp pad covers and our other rubber encapsulation services are an effective way to extend the life of your equipment and machinery, saving you money in the long run. Our process is guaranteed. We've recovered over 5000 sqft in the last two years with zero defects or delamination. Trust our 30+ years of experience recovering clamp pads to help take your business to the next level in 2023. Cheers to a New Year from your friends at Sioux Rubber & Urethane!