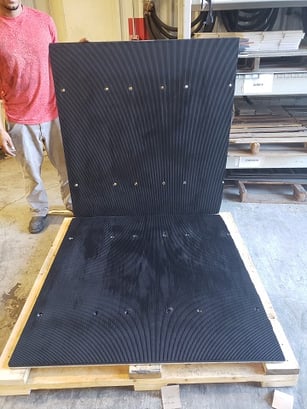 When it comes to material handling in warehouses, clamp pads are essential tools. They provide the extra grip needed to minimize material damage during material handling. Dealing with worn-out clamp pads can be a headache. Replacement costs are high, and the downtime during shipping and potential fitting issues can result in lost productivity and wasted time. Fortunately, Sioux Rubber & Urethane offers a better solution: recovering your existing clamp pads. Let's explore why recovery is the superior choice.
Expertise and Experience:
With over 30 years of experience, Sioux Rubber & Urethane is a trusted expert in clamp pad recovery. Our skilled team has mastered the art of recovering clamp pads, ensuring top-notch results and customer satisfaction.

Endurawear™ Rubber:
We utilize our proprietary Endurawear™ rubber for clamp pad recovery. This premium rubber offers exceptional protection and longevity, allowing you to maximize the working lifespan of your clamp pads before they wear out.
Unbreakable Bond:
Unlike surface coatings that can peel or chip off, our recovery process involves vulcanizing new rubber onto your existing clamp pads. This creates an unbreakable bond that can only be separated under extreme heat, ensuring durability and reliability.

Faster Turnaround Time:
Opting for clamp pad recovery means you can get back to work faster. Our quick turnaround time ensures that we can start working on your order within a couple of days, minimizing your downtime and maximizing productivity.
Perfect Fit and Original Mounting Holes:
Recovered clamp pads are an exact match to your original pads, because they are your original parts. There's no guesswork involved, and pre-drilling is unnecessary. The recovered pads utilize the same mounting holes, ensuring a seamless fit and hassle-free installation.

Versatile Options:
We offer recovered clamp pads in various surface textures, including ribbed and cross-hatching. This allows you to choose the texture that best suits your specific application requirements.

All Types and Sizes:
Whether you have flat, curved, or custom-sized clamp pads, we can recover them all. Our recovery process is suitable for various types of clamp pads, ensuring compatibility regardless of clamp pad style or manufacturer. Rubber thickness options can be customized, providing the necessary protection for your specific needs.

Cost-Effective Solution:
Choosing recovered clamp pads over new ones is a cost-effective decision. Recovered clamp pads offer similar performance and durability at a fraction of the cost, helping you save on replacement expenses and improve your bottom line.

Conclusion:
Recovering your existing clamp pads with Sioux Rubber & Urethane is the smart choice. Benefit from our expertise, Endurawear™ rubber, fast turnaround time, perfect fit, and cost savings.

Contact our experienced staff at 800-443-9469 for a price quote and rejuvenate your clamp pads for optimal performance once again. Get back to work efficiently and affordably with Sioux Rubber & Urethane's clamp pad recovery service.