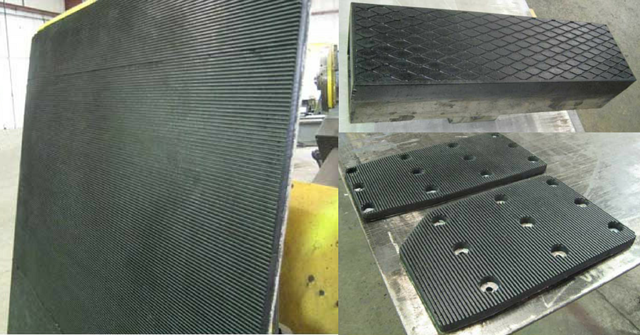 Year by year, day by day, hour by hour, forklifts are used to carefully move products of many different shapes and sizes. Vendors, distributors, and manufacturers rely on the safe handling of whatever item is being moved, so the forklifts need to be in tip-top shape. Clamp pads allow for a forklift to hold a firm, steady grip on any box, parcel, or paper roll. Over time, clamp pads can wear, fade, and chip – creating a hazard for safely moving objects. If you're noticing wear on your clamp pads, don't wait until there is a costly or dangerous slip. Recover your clamp pads today!
Save Money
Many forklift operators hesitate to acknowledge the need for new clamp pads because replacements are expensive and slow. You need to be running your operation – not sitting around, waiting for all new clamps. When you purchase replacement clamp pads from the original manufacturer of your machine, you're not only paying for the protective rubber cover but also the substrate. This makes your cost unnecessarily high – why pay to replace the substrate when all you need is a new pad? Instead, we can recover your clamps for 50%-75% less than the cost of buying them new. With cost savings like that, you can actually afford to keep your forklift fleet in tip-top condition!
Increase Productivity
We understand that your forklifts are essential to your business, so your clamps can't be out of commission for any longer than absolutely necessary. Our lead times are typically 7-10 days, meaning you are back in business in just around one week. Because we work with your original substrate, the mounting lines always line up perfectly for a good-as-new fit. You won't be wasting time returning replacement purchases to the manufacturer when you realize they don't fit, changed the design, or sent you the wrong model. Recovering your clamp pads is a custom, perfect fit – every time.
Strengthen Bonds
You may be concerned that a recovered clamp pad is less effective than something purchased new. In fact, our recovering process guarantees that your clamp pads will not delaminate. In the past two years, we have recovered 5,000 square feet of clamp pads with ZERO defects or delaminations. We have developed a proprietary urethane blend, Endurawear, that is designed with specific properties that help to withstand the wear and tear forklifts endure daily. Our rubber-to-substrate vulcanization process creates an unbreakable bond between the rubber and the substrate of your clamp. Go ahead, try to step on it, drag it behind your car, and run it over – that bond is going to hold fast.
Request a Sample Today
Curious to see how our recovered clamp pads hold up? Request a free sample today! With clamp pads recovered by Sioux Rubber & Urethane, you can protect your bottom line while protecting the valuable product that your forklifts handle all day, every day. Reach out for a free sample today!