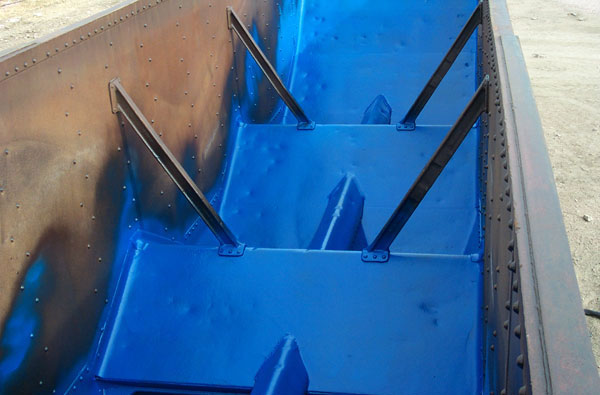 Abrasion, corrosion, and impact can wreak havoc on your equipment. Do you feel like you're constantly replacing and repairing, adding unwanted costs to your bottom line and slowing down productivity? You've come to the right place. Sioux Rubber & Urethane has been solving complicated abrasion, corrosion, and impact issues for our customers for over 60 years. Trust us when we say we've pretty much seen it all. How can urethane lining prolong the productivity and lifetime of your equipment while saving you money? Learn how:
How it Works
You'll start by requesting a quote for your project. Depending on the size, scale, and number of pieces you need covered, we will get you an accurate estimate within 48 hours. We value the time and money of our customers, so we focus on efficient turnaround times. We have a unique bonding process that securely adheres Endurawear lining to the surface of your equipment. Many types of Endurawear rubbers and urethanes are available, and we can customize the thickness to make your liner or coating perform at an optimal level for your specific application.
Applications
Wondering if urethane lining might be the solution to your problems? It has been for countless others in the mining, aggregate, agriculture, chemical, and manufacturing industries. We have been known to line screen frame rails, steel hoppers, screen frames, dump truck beds, concrete hoppers, tanks, grain bowls, beet rollers, and…you get the idea. The options of what we are able to coat or spray with urethane are pretty unlimited. If you think you have an abrasion, corrosion, or impact issue that we haven't seen before, we want to hear all about it. We love a challenge!
Benefits
Because we know and understand the properties of rubber and urethane like the back of our hands, we are able to recommend a custom solution that is perfect for your equipment and the environment in which it is used. We have a full line of castable and sprayable urethanes that we can manipulate to get the physical properties you need for your parts. Endurawear (our proprietary urethane blend) can be formulated in various ranges of hardness, rigidity, and working temperature range. It can be bonded directly to most any substrate including metals, concrete, and wood. We offer literally hundreds of shapes and many color options. Working with Sioux Rubber & Urethane to line and cover your equipment with Urethane is a cost-saving no-brainer. Spend less in costly repairs and replacements, and extend the life of your existing equipment by covering it in a custom lining blended and applied by experts.
Strengthen your equipment and stretch each operational dollar further by lining your equipment with urethane. Get started with a quote today: https://siouxrubber.com/contact/get-a-quote/