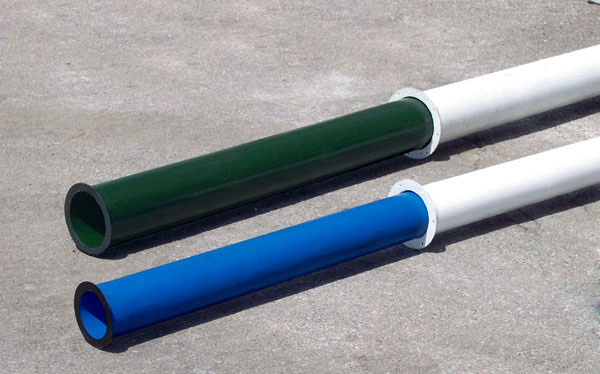 Small particles can cause big-time damage. Anyone who works in mining, aggregate, or agriculture can attest to the abrasion caused by processing tons of sand, grain, seed, fertilizer, and other items. If you're replacing steel spouts on a regular basis, you're wasting time and money that could be better spent elsewhere.
What is TuffTube?
The TuffTube is Sioux Rubber & Urethane's solution to this common problem: steel spouts deteriorate too quickly under the friction and abrasion caused by the items they transport. A urethane lining creates a barrier between the spout and the grain, seed, sand, or fertilizer to extend the life of the spout and save you from costly downtime and repairs. Created with our custom-formulated Endurawear blend, the TuffTube can significantly reduce the abrasion of grain, seed, and fertilizer handling. Stop replacing your spouts every season, experience the freedom of the TuffTube spout liner.
Ease of Installation
We realize that time is money, and the time you spend with spouts out of commission is money you're not earning. The TuffTube can be installed easily on-site. It simply slides into the spout and is secured by a tapered leading edge that also works to prevent particles from slipping in between the spout and liner.
Seamless Application
We knew it was imperative to design a spout liner solution that would prevent particles from getting into the seams of the liner or between the liner and the spout, causing buckling and costly complications. Our lined spout elbows have a permanently bonded liner that matches up to the TuffTube liner for total spout protection – no matter how many curves you throw at it. These liners can rotate 120- 180 degrees to present additional wear surfaces. Completely used liners can be removed and replaced without ever having to change the spout.
Protect your steel spouts AND your bottom line with a urethane solution that was uniquely designed to extend the life of your machinery. Because this is an in-demand product, we regularly keep it stocked and ready to ship. Liners are available for any standard spout diameter up to 24" and in lengths of up to 20' for new or existing spout applications. Need a custom solution that doesn't fit within standard sizing? Give us a call – we love a challenge!