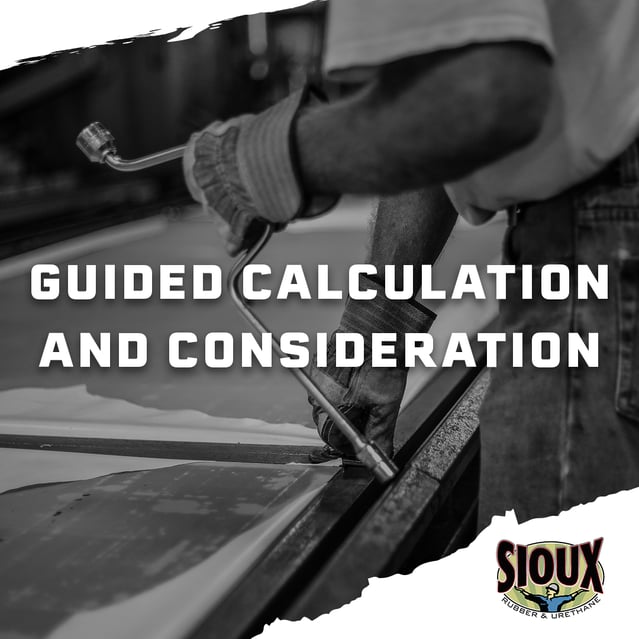 In the world of manufacturing and industry, daily wear and tear on machines and equipment is an unavoidable reality. However, the costs associated with abrasion, impact, and corrosion-related breakdowns can be substantial. Not only does production come to a halt, but the expenses for repairs and downtime can quickly escalate.
At Sioux Rubber & Urethane, we've developed a range of rubber and urethane products designed to withstand the daily abuse of abrasion, impact, and corrosion, thus safeguarding your equipment and protecting your valuable materials. What's more, when our rubber or urethane products eventually wear out, replacing them is a straightforward and cost-effective process, saving you both time and money.
Here are three of our top time-saving products:
1. Rubber Clamp Pads: Clamp pads are essential for forklifts to grip and secure delicate or irregularly shaped materials. When these pads wear out, your operations grind to a halt. Our solution: recovered clamp pads made with Endurawear Rubber. Not only is recovering your existing clamp pads more economical (typically 50 to 75% less expensive than buying new), but it's also hassle-free because we use your current substrate. No more worries about production stoppages due to shipping the wrong setback; our pads are guaranteed to fit.
2. HawkPad: HawkPad represents a cutting-edge press pad that combines multi-layered hardwood with custom-blended Endurawear Urethane. What sets HawkPad apart is its exceptional durability, lasting two to four times longer than traditional gum rubber pads. It enables precise, clean cuts through multiple materials, in various patterns, and multiple times. Replacing HawkPad is not only less frequent but also remarkably swift; one manufacturer reported a replacement time of just 30 minutes compared to three hours for traditional gum rubber pads. HawkPad's cost-saving benefits are unmatched
3. Tuff-Tube Spout Lining: Tuff-Tube is a patented spout lining system designed to fit inside steel spouts commonly used in the feed, seed, and grain industries. Crafted with Endurawear Urethane and available in diameters ranging from 4 to 20 inches, Tuff-Tube acts as a protective barrier between seeds, grains, fertilizers, and your valuable equipment. When it's time for replacement, all you need to do is change the liner—a quick 10-minute process that can be done on-site. Moreover, our liners are designed for rotation, extending their lifespan even further (between 120 to 180 degrees).
These three products are just a glimpse of our innovative solutions. We utilize Endurawear rubber and Endurawear urethane to line and coat various equipment components, including impact bars, dump trucks, rollers, pulleys, paddles, and fan housings. Reach out to us today for a quote, and let us show you how we can start saving you money while protecting your valuable assets.