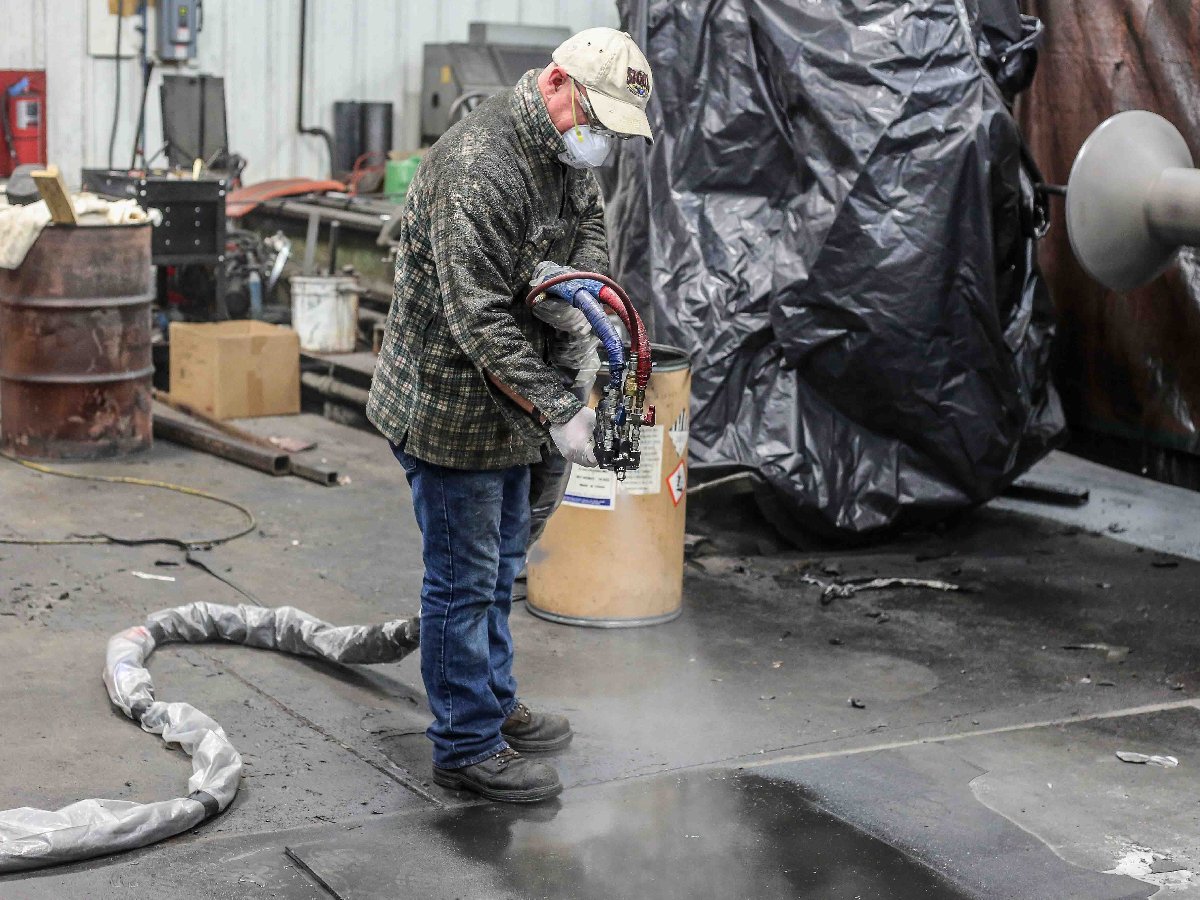 Looking to extend the life of your equipment or machinery? Look no further – we have the solution for you! Lining your item with urethane is a straightforward and economical solution to the abrasion, impact, corrosion, and general wear and tear that has been holding your equipment back from performing to its fullest. The best part about spray urethane is that it is incredibly flexible and can be adhered to virtually anything. Let's learn more!
What is Spray Urethane?
Our spray urethane coatings protect against friction, chemical attack, and wear on equipment. We have created a unique urethane blend, Endurawear, that chemically bonds to your equipment and is able to flex, shrink, and expand with your equipment. Because of it's perfectly customized properties, this coating will not chip, peel, crack or flake like traditional coatings such as paint or powder.
Unexpected Uses
When considering the options for spray urethane applications, you may consider small to mid-size pieces of equipment that are relatively uniform in shape. However, that's not necessarily the case! For items that are oversize or a unique shape, spray-on urethane is the perfect solution. We are able to get every little nook and cranny - no matter the shape - with our unique spray methods. Here are just a few common applications that may not have crossed your mind:
Pontoon - If you've ever been on a pontoon boat, you know: those pontoons get put through some serious dinks and bumps! Extend the life of your pontoon and protect from holes, cracks, and scrapes with spray-on urethane lining! Glide through the water like never before with a custom spray that is even, bump-free, and long lasting.
Beet Rollers - These rollers are large and covered in long hollow spikes. Urethane protects beet rollers from corrosion, and the spray-on application allows us to cover every random spike with seamless detail –without needing a costly mold or specific measurements. This covering is smooth, durable, and helps prevent costly downtime due to corrosion.
Dump Trucks - You may be asking, "why line a dump truck when it's only job is to haul and dump large objects? What good does a lining do?" In fact, linings serve a wonderful purpose for dump trucks and we line them quite often. Urethane lining helps with increased load release, so every job is smoother and more straightfoward. Even a 40 ton dump truck is no match for us!
The applications are endless, and shape and size don't matter. In the world of spray urethane, nearly anything is possible! If you've been holding back from reaching out in regards to a certain head-scratching abrasion or corrosion issue because of the size or shape of your equipment – reach out today! We've seen it all, and we can create a custom solution. Call for a quote today!