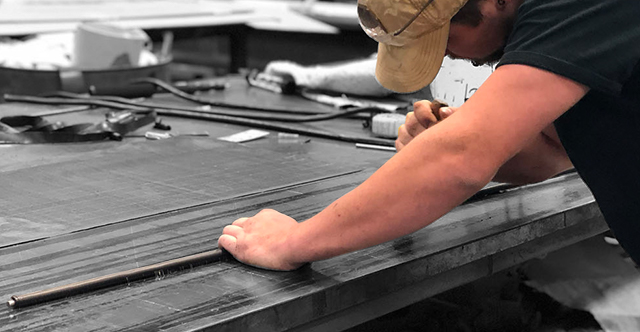 At Sioux Rubber, we're committed to providing our customers with excellent solutions for abrasion and impact resistance. They depend on us for results that will save them money and stand the test of time. We achieve this by channeling decades of expertise and utilizing processes that some may consider "old fashioned" - and we're happy with that! We are proud of the craftsmanship that is required to do our work incredibly well. The process of vulcanization is by no means a shortcut, but it produces great results. Let's take a look at why:
What is Vulcanization?
Vulcanization is a process of chemically treating crude or synthetic rubber in order to give it useful properties, such as elasticity, strength, and stability. When we vulcanize a piece of rubber to a substrate (such as metal or wood) we know it isn't going anywhere.
The process involves applying one to two layers of bonding primers to the substrate after it is degreased. A tack cement is generally used to adhere the raw rubber to the substrate, holding it in place throughout the process. Raw rubber and substrate are then placed into a vessel where heat and pressure are applied. Once the process is complete, the piece is trimmed of any rubber flow prior to being shipped out to the customer.
Vulcanization vs. Glue
We now know that vulcanization is a multi-step process that requires expertise and intuition. A similar, yet simple process involves gluing the rubber to the substrate. For some products that need minimal abrasion or impact resistance, a cold glue bond will suffice. However, a vulcanized bond is stronger and preferable for projects that will take wear and tear (such as recovered clamp pads or the Abrasiplate). For heavy-duty uses, the last thing you want is rubber slipping, sliding off, peeling, or cracking. A vulcanized bond is literally unbreakable, and is only removed by cutting, grinding, chiseling, or burning off the rubber!
Not every project will require the strength of vulcanization, and we can talk you through your specific product needs. Cold-bonded rubber is perfectly sufficient for certain applications, but when you need something stronger-- we're your crew.
Strength & Durability
The reality is simple: you can't get better protection than what vulcanized rubber provides. The virtually unbreakable bond will give you peace of mind as you work with your equipment day after day, hour after hour. Not sure whether you require a vulcanized rubber bond for your project? Our team is here to answer your questions and create a plan that is suited for your specific needs. Give us a call today!