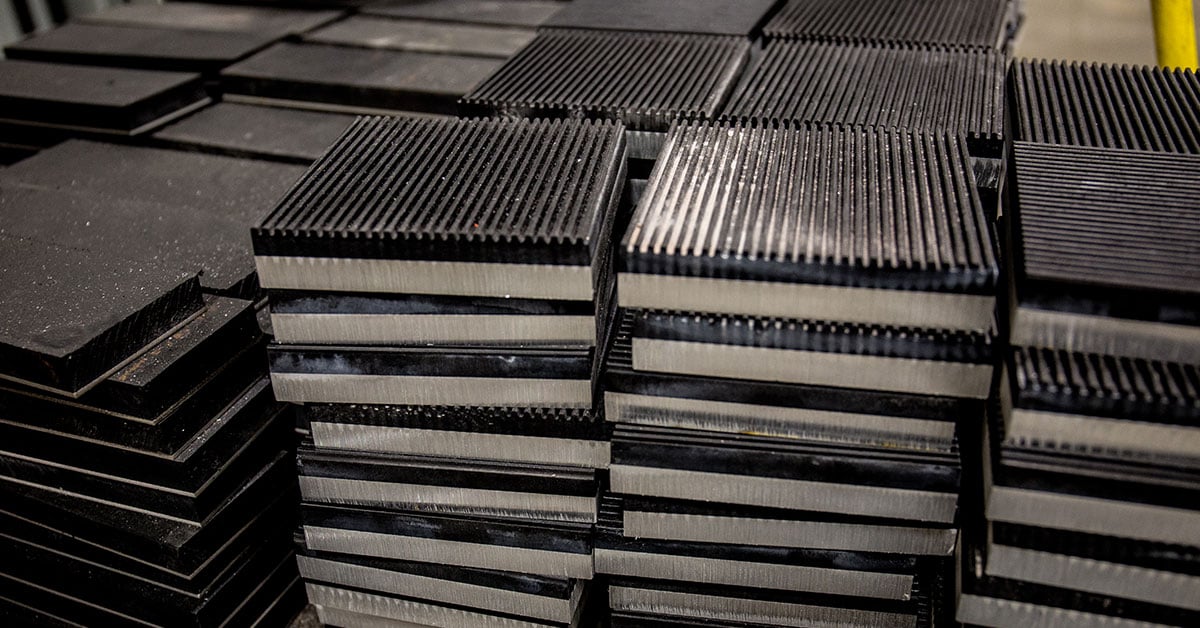 Forklifts withstand heavy use day after day, and their clamps work overtime to lift and transport a wide variety of goods. To run your operation smoothly, you need to be able to trust that your forklifts won't slip or drop the valuable inventory they are moving. Over time, the rubber coating on clamps wears out, and you're left with a question: do I need to completely repurchase clamps for my machine? Who can I trust to have my clamps working in good-as-knew (or even better) condition?
Protect Your Inventory
We understand the risk that you run when rubber pads start to wear out on your clamps. Avoid accidents and inventory loss with recovered clamp pads that actually work even better than before. When we recover your clamp pads, we guarantee they will not delaminate from the substrate – even under the toughest of conditions. Whether you are handling barrels, rolls, or flat boxes, our Endurawear Rubber is built to last. Plus, our custom ribbed pattern helps to provide extra grip support for a hold that is sure to stand the test of time. We're so confident in our vulcanization process and Endurawear blend, that we'll send you a sample that you are free to drag, run over, and try to peel apart with pliers – the rubber simply won't be removable from the substrate!
Save Money
The material handling industry is tough, with tight margins and demanding customers. Here at Sioux Rubber & Urethane, we understand that every penny counts. Why pay for an entire new set, when you can simply re-cover your existing clamp pads? Many of our customers are blown away by the price difference and simplicity of our solution. Our recovering process is 50-75% less expensive than purchasing a replacement. What will you do with all your extra profits?
Save Time
Time is money, and you don't want to waste it. Waiting for new parts from your OEM can be a long, drawn-out process that leaves you frustrated and behind on productivity. We understand the importance of an efficient turnaround time. On average, our lead time is 7-10 business days. Imagine being back in business faster, with top-quality clamp pads running at full capacity in your warehouse.
Our experienced team has been re-covering clamp pads for over 30 years, using some of the highest-quality compounds available. At Sioux Rubber & Urethane, quality is our standard. We're here to help you increase productivity, save money, and reduce the headaches caused by failing clamp pads and downtime. Reach out for a quote today!