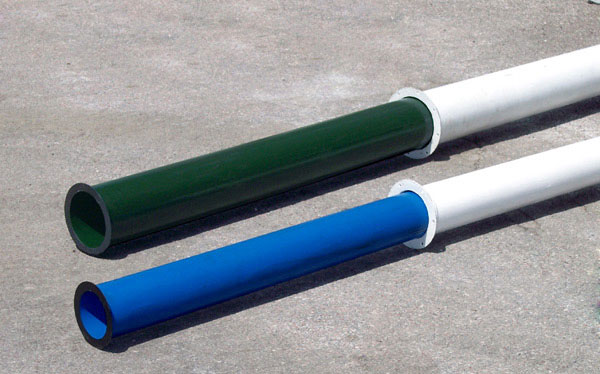 Small particles can cause huge amounts of damage. Grain is an incredibly abrasive material, so you can imagine it does a number on the steel spouts it tumbles down day after day. Oftentimes, a steel spout will see so much abrasion from grain that it has to be replaced within the season. This is costly and wastes your time, money, and materials - but fortunately for you, there's a better way. We created our patented Tuff-Tube® to solve this problem for our customers that work with grain, sand, or other small abrasive particles.
What is Tuff-Tube?
The Tuff-Tube is a urethane liner that is designed to slide seamlessly into your existing spout, creating a barrier between your valuable equipment and grain, seed, fertilizer, or sand. Tuff-Tube spout liners are available for any standard spout diameter up to 24" and in lengths up to 20' for new or existing spouting applications.
Why Line Your Spouts with Tuff-Tube?
It lasts a long time. Tuff-Tube can be rotated 120-180 degrees. When one side starts to wear, simply rotate to give it a longer lifespan while it protects your steel spout.
It is simple and fast to install. Tuff-Tube is made per order. Then, installation takes about 10 minutes from start to finish. Simply slide the tube into the spout and you're done. The top holding ring secures the liner, so there are no bolts, screws, or parts necessary for installation. It's that simple.
It is seamless, so no particles will get stuck between the liner and the spout or trapped in a liner seam. Because of the top holding ring, there is no opportunity for grains to end up in the wrong place and end up damaging your equipment. If you're worried about curves in your spout- we've got that covered, too. Our lined spout elbows have a permanently bonded liner that will create a seamless connection every time.
It's made with our Endurawear Urethane, so you never need to worry about buckling, peeling, or plugging issues that may be the result of other lower quality liners. Endurawear Tuff-Tube was designed to last and withstand the wear and tear of grain handling.
Are you ready to quit replacing spouts and start getting the most out of your equipment, money, and time with Tuff-Tube? Give us a call or check out our product page to learn more about ordering the Tuff-Tube spout liner.