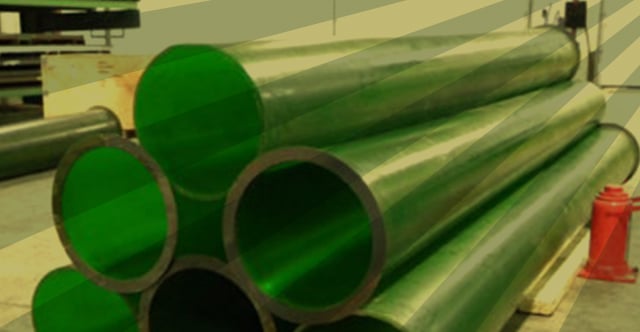 Since Endurawear Rubber and Endurawear Urethane offer the best protection against abrasion, corrosion and impact, it's no surprise that they help a variety of industries. In fact, anytime there is a machine or part that needs to last longer and work with fewer repairs, applying rubber or urethane is often the answer.
At Sioux Rubber & Urethane, we've been solving abrasion, corrosion and impact issues for more than 60 years. We've expanded our scope and product lines over time to meet the needs of our customers. We provide solutions for a lot of industries, here are just a few.
Agricultural Industry
Endurawear rubber and urethane applications significantly reduce wear-and-tear on agricultural machinery and livestock equipment. For example, rubber sheets and matting can be used for livestock stalls, trailers, veterinary rooms or other areas to protect precious assets. Urethane lining is easily applied to metal tanks, farm equipment, piping and spouts to reduce the abrasion and corrosion that limits the life of your equipment. One of our best products, our Tuff-Tube lining system, was invented to allow grain handling equipment last through harvest-after-harvest without completely replacing costly steel spouts.
Chemical Protection
For those who work with chemicals, corrosion is your biggest enemy. Over time chemical corrosion gradually destroys materials (metal) and its useful properties including strength, appearance and permeability to liquids and gases. Rubber linings and urethane sprays put a barrier between chemicals and your equipment. Rubber is not an electric conductor so it is the perfect solution to prevent electrolytic corrosion. Compounded rubber is also chemically resistant to most corrosive solutions. Sprayable urethane not only protects against corrosion but friction, abrasion and weather.
Manufacturing Industry
We apply rubber and urethane to a variety of manufacturing equipment and components to protect against abrasion and wear. Rollers and pulleys, feeder bins, forklifts, chutes, fan housings and pumps all get an extra lease on life with the proper application. We can coat almost any size or shape of equipment or component or we can help design a customized solution to fit your individual needs.
Sand and Gravel Mining Industries
Those who work in the sand and gravel mining, aggregate, agriculture and frac sand industries understand just how costly abrasion can be. Those tiny pieces of material wreak havoc on your machinery because they rub, grind and eat through the metal. We cover the exposed parts of the machinery with rubber – the pipes, augurs, screws, housings, chutes and so on – which greatly prolongs the life of the equipment.
Trucks
Trucks used for city street maintenance are protected with rubber. We use rubber faced plate and rubber encapsulated expanded metal to line internal components, like blower wheels and housings, plus protect external components like hopper liners and curtains for broom heads. Lined blower fan housings last multiple times longer than unlined housings and when those linings finally wear down, they can easily and efficiently be replaced by simply removing a few bolts.
If your industry has a problem with abrasion, corrosion or impact, we're positive we can find a solution. Contact us today.