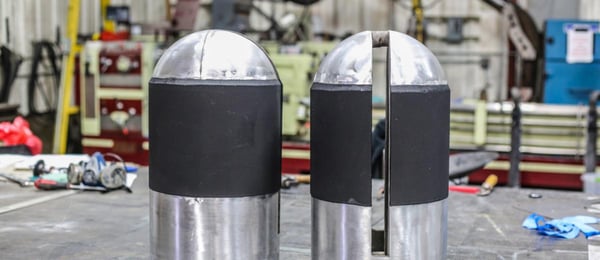 Have an unusual piece of machinery or product that could benefit from some vibration control or corrosion resistance? We can help by covering it in rubber or urethane. In fact, one of the cornerstones of our business is our custom rubber and urethane coverings and coatings that we create specifically for your unique needs.
Why Cover?
Covering a piece of machinery in rubber helps to minimize impact and provide abrasion or corrosion control, and it can also be applied to control noise, improve gripping friction, minimize vibration or to simply protect a machine or product. Sprayable urethane offers these benefits as well as cut and tear resistance. Plus, we use our own proprietary blend of Endurawear rubber and urethane for all our custom projects.
Custom Projects
Here are just a few examples of the items we've covered.
Rubber Lined Forks: Covering forks in rubber provides resistance when you don't want pallets to slide and shift around. This coating of Endurawear rubber also protects the forks from heavy use, making them last longer; that means fewer replacements which equals less downtime and more money in your pocket.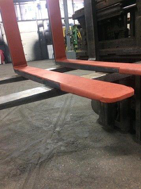 Idler Rollers: Idler rollers are used to handle material, support conveyor belts, and guide vehicle cat tracks. Covering idler rollers in urethane or rubber reduces wear and allows them to move material at high temperatures and those exposed to oil, water and corrosive chemicals. Here's a before and after of an idler roller that we covered.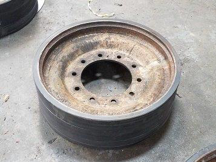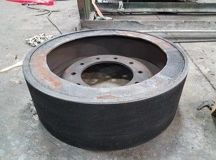 Fan Housing: Covering the inside of a fan housing helps reduce vibration and noise from the propeller while protecting those housing from abrasive wear. Here's a before and after one that we've done.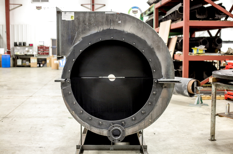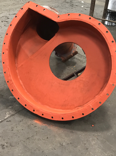 Water Stop Plugs: A giant water plug definitely benefits from the tight seal that Styrene-Butadiene Rubber (SBR) provides. We've covered all types of water-stop plugs.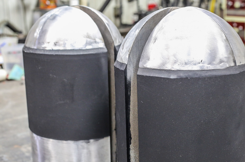 These custom projects are just the tip of the iceberg of what we can do. We've covered gaskets, discharge chutes, mixer paddles, vibrator bowls, candy processing tables, expansion joints and more rollers than we can count. We can surface bond, encapsulate, and cover a large variety of substrates with urethane or rubber. If your part or piece is steel, stainless, aluminum, cast, galvanized or even wood or concrete, we can permanently bond our Endurawear coverings to it. The applications are nearly endless.
Contact our experienced team and they will work with you to develop the right product or find the right coating for your specific needs. What can we cover for you today?