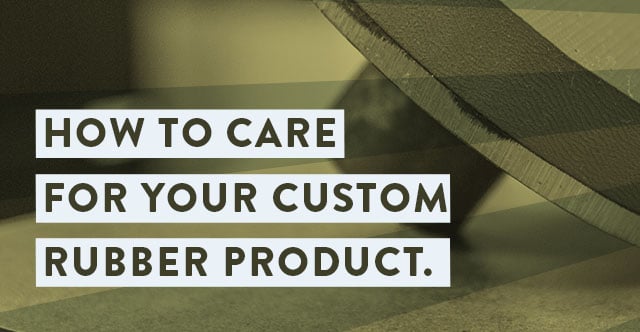 Not every impact, abrasion and corrosion issue has a one-size-fits-all solution. At Sioux Rubber & Urethane, we understand this better than anyone. That's why we use our 40-plus years of experience to care for custom rubber products to solve every possible issue that comes our customers' way.

Creating a custom rubber product is easier than it sounds. It just takes a couple of steps.
Determine if your custom rubber product needs to be completely original or if your existing parts just need to be re-coated. Rubber can be sprayed to an existing piece of machinery to make it perform better or to control noise. For example, adding rubber to fan housings can reduce noise. Other times rubber, especially our Endurawear rubber - which can control vibration or protect a machine - can be applied to something we build completely from the ground up. We excel at custom work and can build new parts based on your drawings or specifications. Not sure what type of problem you have, refer to step three.
Determine what type of rubber you need. We specialize in both natural and synthetic rubber. Natural rubber is soft and offers excellent protection from corrosive materials. We use this type of rubber for pump housings, fan systems, linings and parts tumbling barrels. SBR or Styrene-Butadiene Rubber is a synthetic rubber that is great for abrasion and impact resistance. We use SBR on drive rollers, pulleys, impact bins and pads and skirt boarding. Not sure what type of rubber you need? No problem, refer to step three.
Contact us. Our experienced staff will discuss all the solutions rubber can provide for your machinery or part problem. Plus, we know which questions to ask so we can factor in all your needs with the finished product. For example, does your part have a weight limit, does the rubber need to be flame-resistant, does it need to be food grade, etc. You may be scratching your head about your wear issue, but chances are we've seen it before and know how to solve it. Send us your inquiry, issue, problem or drawing via email, fax or mail and we will get a solution and quote back in a day or two. Or you can pick up the phone and simply call.
Get ready for your finished product. Not only can our staff help solve your abrasion issues, but we understand your custom items are time sensitive and very important. We do what it takes to get your product to you on time. When you get your quote or place your order, you will know when we expect to have the part completed and ready for shipment.
Your custom rubber products are literally just a call away. Contact us today to see what we can do for you.