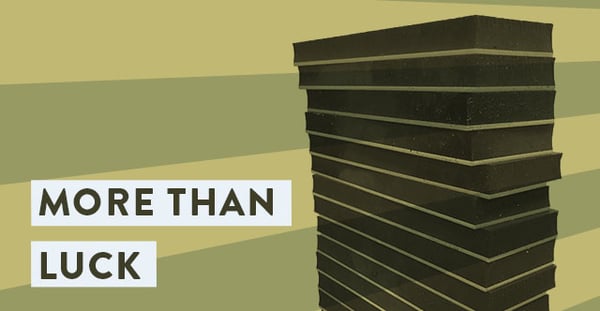 When you choose to recover, instead of replacing your clamp pads, you've made a smart decision that will positively impact your company's bottom line. Many clamp pad manufacturers won't tell you that recovered clamp pads can be a third of the cost of a new set.
Another benefit to recovering your clamp pads, instead of replacing them, is that recovered clamp pads reduce downtime. They stop lost productivity by getting your crew back to work, fast. Since we use your existing substrate, the mounting holes line up perfectly, every time; you don't have to worry about shipping back a pair that doesn't fit. We also understand time lost is money lost, so we guarantee quick turnarounds.
We Understand Quality Counts
All of those economic benefits are great, but you might be wondering, "Are recovered clamp pads just as good as new?" There's no point in saving money if the final product is subpar. Rest assured, our recovered clamp pads are just as durable, if not more, than a brand-new set.
It's not luck that allows our recovered clamp pads to last. We don't skimp when it comes to our materials or process.
First, we use our proprietary Endurawear rubber on every clamp pad we recover. This rubber has been tried and tested by our company. We've been in this industry for more than 60 years and have had a lot of practice to get the blend just right.
Secondly, we vulcanize the rubber to the metal instead of relying on glue. This means the elastomers in the rubber are chemically bonded to the metal substrate, creating an unbreakable bond that can only be broken with a hammer and chisel.
Lastly, since steel will always outlast rubber, we can recover your clamp pads several times before they will ever need to be completely replaced – adding more long-term savings to your pocket.
You Need Clamp Pads, Get Them From Us
Clamp pads are a "must" for your forklift. They decrease damage to materials, allow you to move oddly-shaped or fragile items and extend the life of your forks. When clamp pads are worn damage from sliding, scratching, skidding and even dropping the haul is a real concern. The better the clamp pad, the better protection for your materials.
You can trust our recovered clamp pads to get the job done and get it done right. This is what we do, and we're good at it. If there are other things you don't know about our recovered clamp pads, check out this blog or give one of our sales guys a call to get your answers.