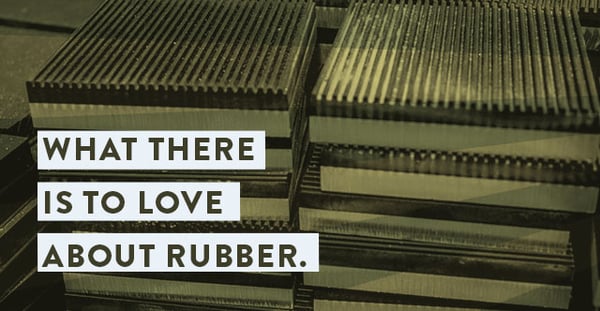 Rubber is one of nature's most durable, resilient materials. It originally comes from the South American tree Hevea Brasiliensis and used for centuries before being manufactured for industrial use in the 1700s. Today we primarily use synthetic rubber, specifically SBR (Styrene-Butadiene Rubber). The reason why we love rubber so much is that it comes in many forms and does many things!

It's Flexible. "Rubber" is a term given to different polymers that are all elastomers, meaning they can be stretched and will return to their natural state once you let go. Natural rubber is a natural polymer that is used to make rubber bands but is also a relatively low-cost lining material for both corrosion and abrasion protection. Highly resilient and available in 40-50 durometer, soft natural rubber exhibits superior abrasion resistant qualities compared to other lining materials. Soft natural rubber offers excellent protection from many corrosive materials. It is available in red or black if color contamination is a consideration. Typical applications include pump housing, fan systems, lining and parts tumbling barrels. Constant to intermittent temperature limits are 150° to 180°F.
It's Sturdy. People may think of rubber as being flexible or bouncy, but it can be very soft or very hard as well. The hardness of rubber is measured in durometers. Rubber typically has a durometer of 20 to 90, which varies based on the type. Most of today's rubber is synthetic, the most common being Styrene-Butadiene Rubber (SBR). SBR comes in a variety of durometers with around 60 shore "A" being used most often on drive rollers, pulley's, impact bins/pads and skirt boarding. It has good impact and abrasion resistant characteristics. A good example is about 50 percent of all car tires are made from various types of SBR's.
It Lasts A Long Time. Rubber, especially SBR, is not only cost effective but stands up to abrasion and wear. That's why we use Endurawear, our proprietary rubber, when we recover clamp pads, make linings for tanks, housing, scrubbers, and manufacture impact bars that provide excellent impact absorption. Adding Endurawear rubber to your machinery helps it last longer, keeps maintenance costs down and just makes it perform better.
Sioux Rubber & Urethane started operations over four decades ago. We've earned a reputation in our industry for being an on-time supplier of high-quality rubber and urethane applications, products and custom designs. If you're ready to love how rubber can improve the way you do business, click below.